On 7th April around 60 athletes with both upper and lower limb disabilities from 6 different districts of West Bengal came together to participate in the first State Multiple Disability Football Tournament. This was organized by Civilian Welfare Foundation in collaboration with TMC Ward No. 95, Sudhamta Foundation India and Five Mad Men. The six participating districts were Kolkata, North 24 Parganas, Purulia, Malda, Hooghly and Birbhum.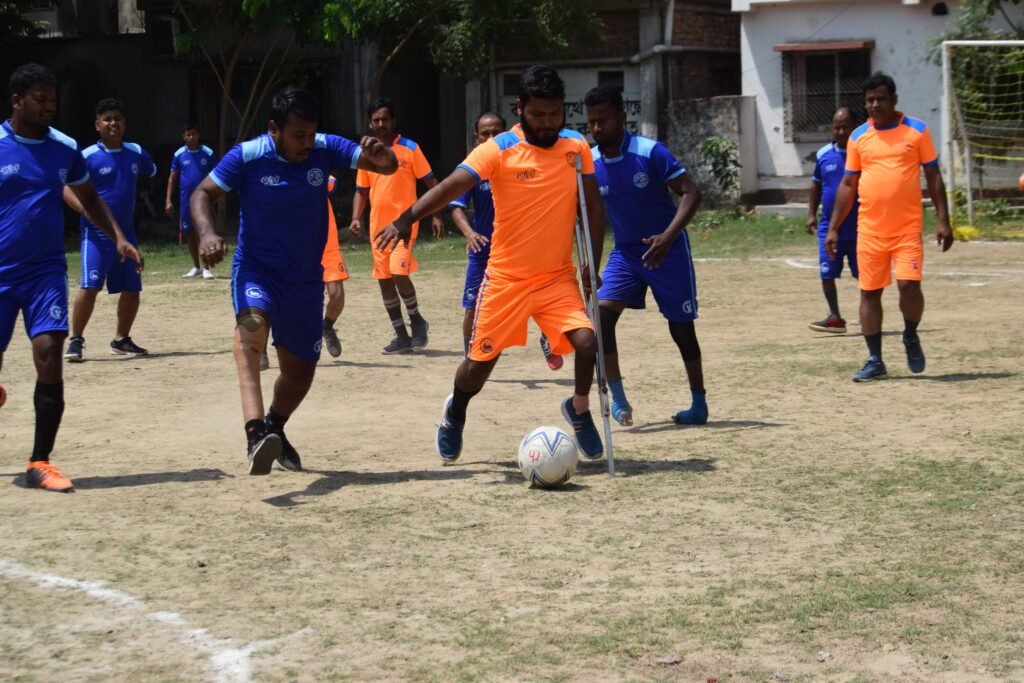 The World Health Organization (WHO) recognizes that 15% of the world's population lives with some form of disability. Individuals with disabilities are always vulnerable to different forms of discrimination in society and a collective effort is required to minimize the problem. The situation of people with disabilities is especially influenced by factors concerning accessibility, representation, and lifestyles which again depend on the societies. After the pandemic, the conditions of people with physical disabilities have deteriorated further with respect to accessibility, physical and psychological health, and social participation, and a collective effort is required to minimize the problem. Research in India has proven that there is a role of systematic sports training in developing social capital and psychosocial faculties.
        Moreover, Bengal is going through turmoil with respect to disability sports with no participation from Bengal in Tokyo Paralympic Games 2020. One of the accepted reasons behind this was the lack of grassroots screening of people with disabilities through a sport that requires low cost and low infrastructure. Through Mixed Disability Football, a low-cost sport the aim was to screen athletes from the grassroots and provide them with systematic training.
         The target of the tournament is to make Mixed Disability Football screening sports for Bengal through which all athletes can be screened for further participation in various other para-sports. Many of these athletes have represented India in the national and international level as well.  
       In the tournament, district Purulia emerged as the winner. Several notable personalities from different walks of life, including Dr.Sashi Panja, Minister of Women and Child Development and Social Welfare of West Bengal, Shyam Thapa, ex-Indian Footballer and bronze medallist at the 1970 Asian Games, Sabyasachi Chakraborty, famous actor, Sumit Mukherjee, ex-footballer, Chandan Roy Chowdhury, President of Bengal Paralympics, Ajit Banerjee, President of Bengal Olympic Committee, Sunil Kumar Biswas, CEO of Jharkhand Paralympics Committee, several councillors from different wards of Kolkata and renowned oncologists graced the event.
Media article related to this event:
https://www.indiatimes.com/news/sports/purulia-new-name-in-disability-football-in-bengal-599622.html