Equity and equality at crossroads
Youth based, Govt. Registered , 80G Tax exempted Non-profit Organisation
Started in 2011, CWF works primarily in 7 districts of West Bengal with its working offices at Kolkata & Bolpur/Shantiniketan. The primary focus is on inclusion of marginalised population such as people with disabilities, LGBTIQ+, child labourers and tribal populace. CWF is a women led organization and has more than 96 % representation of women among the board members and members.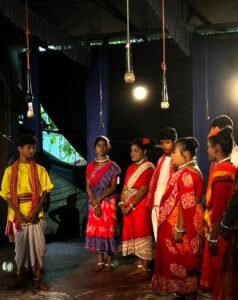 October always holds a special place in the heart of every Bengali. It heralds the beginning of Durga Puja- the biggest festival for the Bengalis....
Read More
First transgender basic healthcare documentary in India "Beyond Blue and Pink" was directed by Debgopal Mondal and produced by CWF was released in 2018
The denial of basic healthcare to transgenders has been brought to light through a documentary "Beyond Blue and Pink" that seeks to promote dialogue and discussion towardsA creating a trans-friendly way of accessing West Bengal's healthcare system.
Eastern India's first Transdisciplinary research lab at Bolpur/Santiniketan in 2022: CWF Labs
Transdisciplinary approaches to human health are very new to India and are defined as approaches that integrate the natural, social, economics and health sciences in a humanities context, and in so doing transcend each of their traditional boundaries. Through this method, CWF labs aims to to cater to tribal belts, transgender populace, minority communities and people with intellectual and physical disabilities.  We will not only be engaged in providing low-cost healthcare of them but also making a health profile of every individual.
CWF study proposes Sports as a model for empowerment for people with disabilities
This book discusses how the 'Disability' concept is constructed from various perspectives and how it is conceptualized by and projected through the lens of Indian Cinema. It describes the prevalence of disability, its latest definition, classifications and many folded challenges faced by persons with disabilities (PWDs) for full inclusion and the existing inequalities in the level of education and literacy across the States of India.
CWF facilitated broadcasting of paralympic Games first times in India in 2016
As the world gears up for the opening ceremony of the Paralympic Games in which 19 Indians will be competing, not a single Indian network including Doordarshan has picked up the broadcast rights for this global event. And this has elicited fervent calls from Civilian Welfare Foundation, a city-based NGO, to give a proper media coverage in order to give them their due credit.